Reuben Soup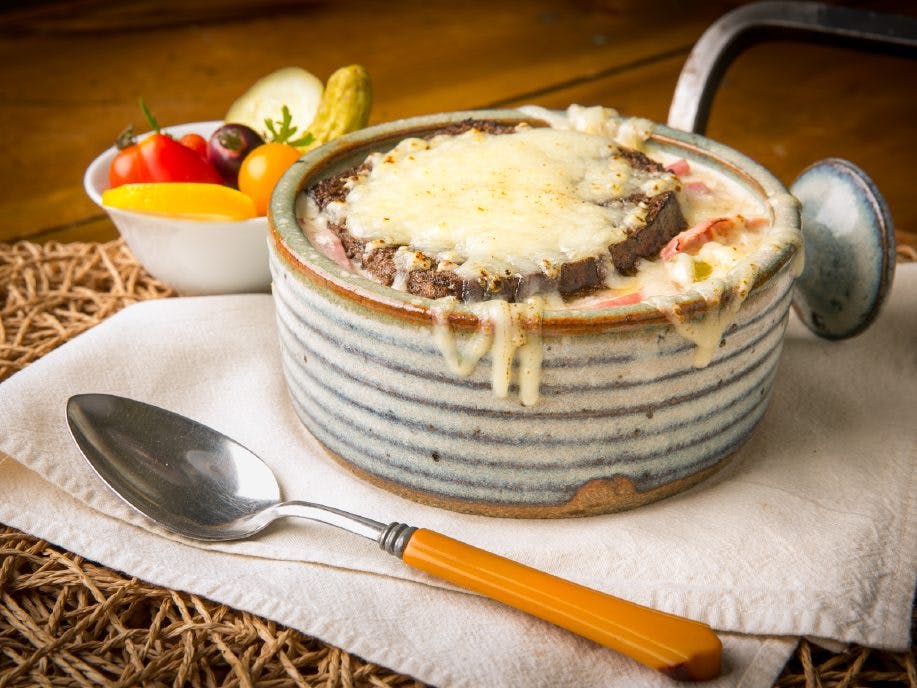 This delicious and hot soup makes for an easy and different St. Patrick's Day dinner – or use your leftovers from your holiday and make this soup the next day!
Prep Time 10m | Cook Time 60m | Ingredients 11 | Serves 8
Ingredients
1/2 c. Onion, chopped
1/4 c. Celery, chopped
3 T. Butter
1/4 c. Flour
3 c. Water
4 t. Beef bullion powder
1/2 lb. cooked Grobbel's corned beef, shredded
1 c. Sauerkraut, drained
3 c. Half and Half
3 c. Swiss Cheese
8 Rye or Pumpernickel slices, toasted and trimmed to fit bowls
Directions
1. Prepare Corned Beef following Easy to Prepare Online Video, or Corned Beef Cooking Guide.
2. In a large saucepan over medium heat, melt butter.
3. Add onion and celery and cook until tender.
4. Slowly add flour while stirring constantly until smooth.
5. Gradually stir in water and bouillon, bring to a boil.
6. Reduce heat, simmer uncovered for 5 minutes.
7. Add corned beef, sauerkraut, half and half, and 1 cup of swiss cheese.
8. Cook for 30 minutes or until slightly thickened stirring frequently.
9. Ladle into 8, one cup, ovenproof bowls.
10. Top each with a slice of toast and 1/4 cup of swiss cheese.