Corned Beef Tacos with Cabbage Pico de Gallo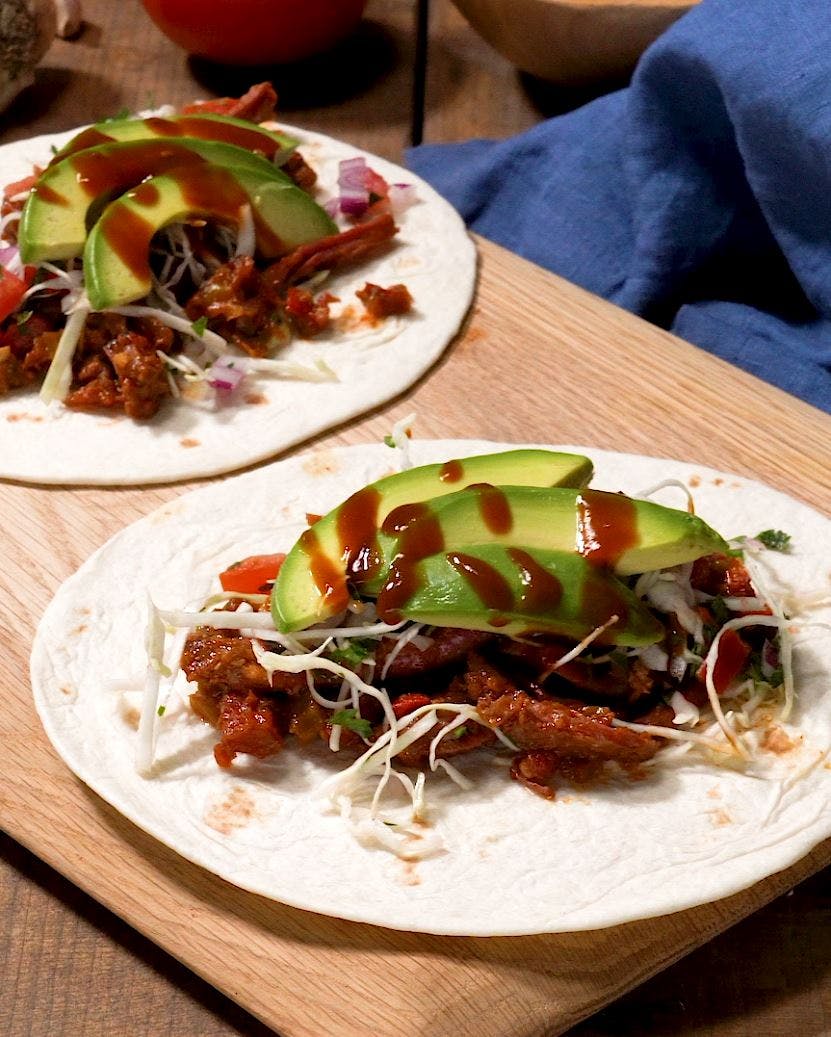 Change up your "Taco Tuesday" with the ultimate meaty treat. Old fashioned pico de gallo gets an upgrade with Mexican lager layered over savory braised corned beef with a kick that will knock your socks off.
Ingredients
1 Grobbel's CB Brisket Flat Cut
1 Medium Onion Diced
5 Celery Stalks Diced
2 Cups Diced Peppers
4 cloves minced Garlic
1 tbsp Smoked Paprika
2 tsp coriander
1/2 tsp garlic powder
2 tsp oregano
1 tsp cumin
1/2 tsp cinnamon
1 tsp chipotle powder
2 chipotle peppers (in adobo sauce)
1 tbsp adobo sauce
2 Cans of fire roasted tomatoes (15.5 oz each)
1 bottle of Mexican Lager
2 Avocados
Directions
Remove flat cut and cut into 3 equal pieces. Place meat in a medium pot on high with fat side down. Sear each side 3-5 min until brown. Once seared, remove meat and cover for later. Reduce heat to medium and add onion, celery and peppers to pot. Mix until caramelized, add paprika, coriander, oregano, cumin, cinnamon, salt, chipotle and garlic powder. Mix, then add fresh garlic.
Once veggies are browned, add beer, mix, then add the 2 cans of tomatoes. Add the 2 chipotle peppers and adobo sauce. Cover pot and bring to a light simmer. Put meat back in the pot and cover. Braise for 2 hours or until meat is tender. Remove meat and shred.
In a blender, puree half of the vegetable sauce mix. Salt and pepper to taste. If you like more heat, blend one or both of the Chipotle Peppers.
Heat up a tortilla, and top with meat, cabbage pico de gallo, slice of avocado and pureed sauce.
Cabbage Pico de Gallo
1 cup chopped cabbage
1 onion (small diced)
4 tomatoes (small diced)
Juice from 1 1/2 limes
1 bunch cilantro rough chopped
Mix all ingredients until combined.