Corned Beef Hash Waffle with Thyme Maple Syrup and Herb Compound Butter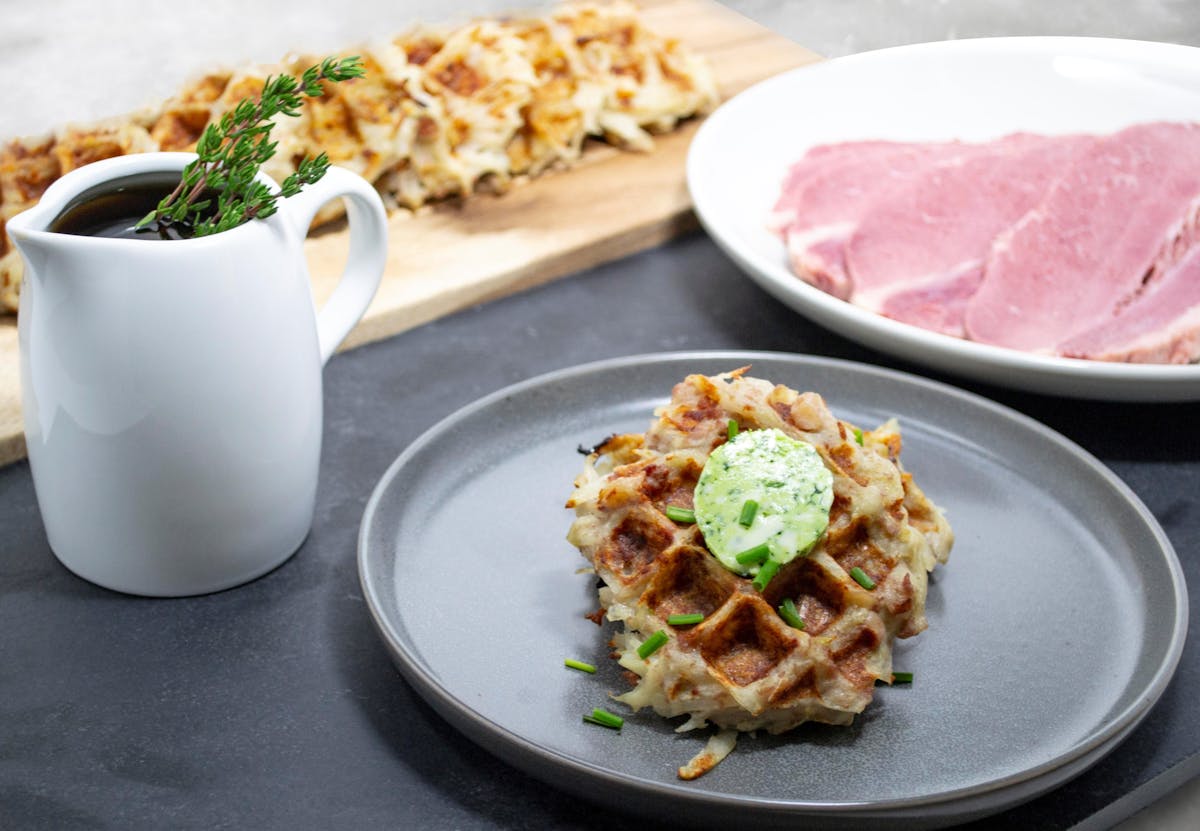 Waffle Ingredients
2 lbs potatoes, peeled and shredded
1 onion, peeled and shredded
1 lb corned beef hash (suggested recipe for corned beef hash)
1 egg, beaten
1 tablespoon flour
1 lemon, juiced
Salt and pepper
Thyme Maple Syrup Ingredients
2 cups maple syrup
4 sprigs fresh thyme
Herb Butter
1 lb butter, left at room temperature for a minimum of 4 hours
1 tablespoon minced chives
1 tablespoon minced parsley
1 tablespoon minced thyme
1 lemon, zested
Directions
Waffle
Strain off excess water from the shredded potatoes and onions
Add all ingredients in a large bowl. Mix by hand until everything is uniformly blended.
Preheat waffle iron to medium heat and spray with non-stick spray.
When the waffle iron is at temp, scoop ½ cup of the waffle mixture onto the iron and cook a test waffle. Check that the outside crisps until golden brown and that the inside is cooked through. Adjust temp and time as necessary.
Cook off waffles and serve immediately with the herb compound butter and thyme infused maple syrup.
Thyme Maple Syrup
Pour the maple syrup into a medium sized pot and add the thyme.
Bring the syrup to a simmer and let simmer for 15 minutes.
Pour the syrup and the thyme into a storage container. Serve immediately or store in the refrigerator.
Herb Compound Butter
For the butter to come together uniformly, the butter must be soft to the touch.
Place all ingredients in a food processor and pulse until the herbs incorporate into the butter. If a food processor is not available, use a potato masher or work ingredients together by hand.
Spoon the butter into parchment paper or plastic wrap and form into a log. Chill until hard. Slice and serve.