Stout Roasted Root Vegetables with Corned Beef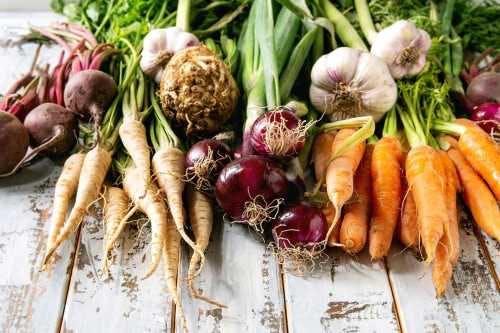 A slight twist on Classic Corned Beef Dinner, this recipe features a colorful medley of root vegetables and a bottle of Guiness to perfectly complement your meal. Feel free to modify by adding your favorite root vegetables.
Prep Time 10m | Cook Time 2h 45m - 3h 15m | Ingredients 7 | Serves 6-8
Ingredients

1 corned beef brisket flat, cut in long strips 2 inches wide. (This will accelerate cooking and for ease of finishing with the root vegetables)
1 bottle of Guiness stout.
2 large carrots peeled and cut into 1-2 inch pieces.
2 parsnips peeled and chopped into thick coins.
1/2 stalk of celery washed and chopped into 1 inch pieces.
2 medium turnips peeled and cut into 1/2 inch pieces.
1 Spanish onion peeled and quartered.
Directions

1. Remove corned beef from packaged and place in a large pot with sufficient water to cover the meat. If desired, add fresh dill and chopped onion for a more flavorful bouquet. For a more robust flavor, add the desired amount of enclosed spice packet to water.

2. Bring water to boil.

3. Reduce to simmer and cover. Simmer approximately 2 to 2 1/2 hours or until firmly fork tender. Internal temperature should be at least 160°F for food safety; for optimal tenderness, cook to an internal temperature of 190°F.

4. Remove meat from pot and let stand 2-3 minutes. Place cooked meat in the bottom of your Pyrex or Dutch oven.

5. Toss root vegetables in a large mixing bowl and season with black pepper and dry dill. Add two tablespoons of olive oil to the root vegetable mix and toss vigorously. Make sure veggies are coated with oil and lightly seasoned.

6. Take your root vegetables and place them on top of the meat and pour the remaining liquid from the corned beef over the vegetables 2/3 of the way. Cover with parchment paper in foil, poke a hole in the center, and place in the oven at 375° for 45 minutes or until vegetables are fork-tender. Remove from oven, and peel back foil carefully to ensure you do not burn from the steam.

7. Cut meat across the grain and enjoy! Place this dish over some mashed potatoes or mashed parsnips if desired.