Brisket Burnt Ends with 4-Cheese Mac & Cheese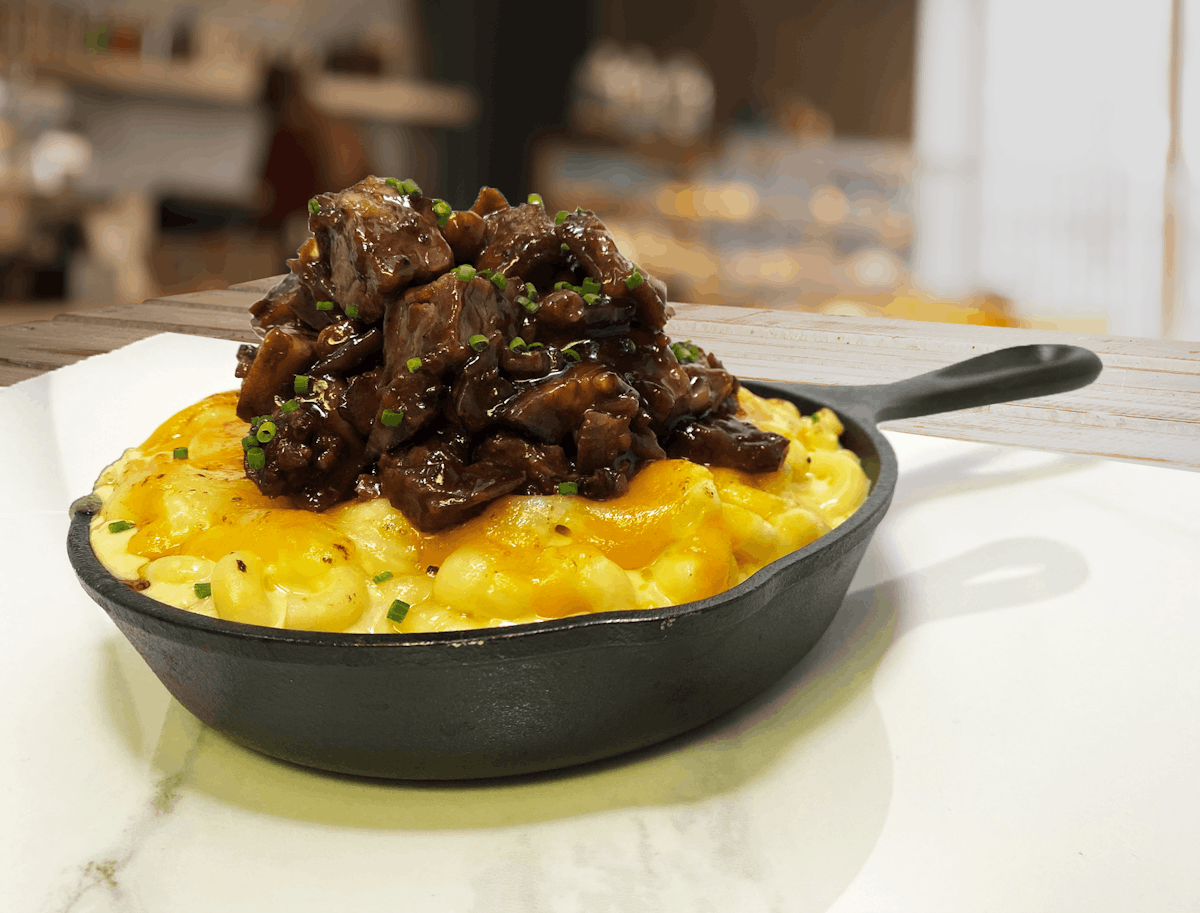 Ingredients
1 package of Grobbel's Gourmet Smokehouse Brisket Burnt Ends
1 pound of elbow macaroni
3 tablespoons butter, unsalted
3 tablespoons all-purpose flour
2 cups milk
12 ounces sharp cheddar cheese, grated
4 ounces gruyere cheese, grated
4 ounces gouda cheese, grated
8 ounces Velveeta cheese, grated
1 lemon, juiced
1 teaspoon hot sauce, Franks or any other
Salt and pepper to taste
Directions
Bring a medium pot of water to a boil. When the water is boiling, add a pinch of salt to it and then add the pasta. Cook until done, al dente, and then drain in a colander. Set aside until the cheese sauce is ready.
In a large pot, heat the butter until melted. Add the flour and whisk until a paste forms, roux. This should be the consistency of creamy peanut butter. Do not allow this paste to darken. Add the milk slowly, in a steady stream. Whisk thoroughly while adding to make sure the mixture is not clumpy. Sauce will start to thicken slightly. Let the sauce simmer for ten minutes, stirring to avoid scorching the bottom.
Add the 4 cheeses, whisking as you add to avoid clumping. Reserve a little of each grated cheese to garnish the top of the mac & cheese.
Add the cooked macaroni to the cheese sauce and stir to mix. Pour the mixture into a casserole or large cast iron pan. Top the mixture with the reserved, shredded cheese. Place the pan into an oven heater to 400 degrees and bake until bubbling.
Heat the smokehouse brisket burnt ends and toss with the accompanying, or your favorite, barbeque sauce.
Top the mac & cheese with the burnt ends and serve.