Brisket Burnt Ends Tacos with Pickled Red Onions and Salsa Verde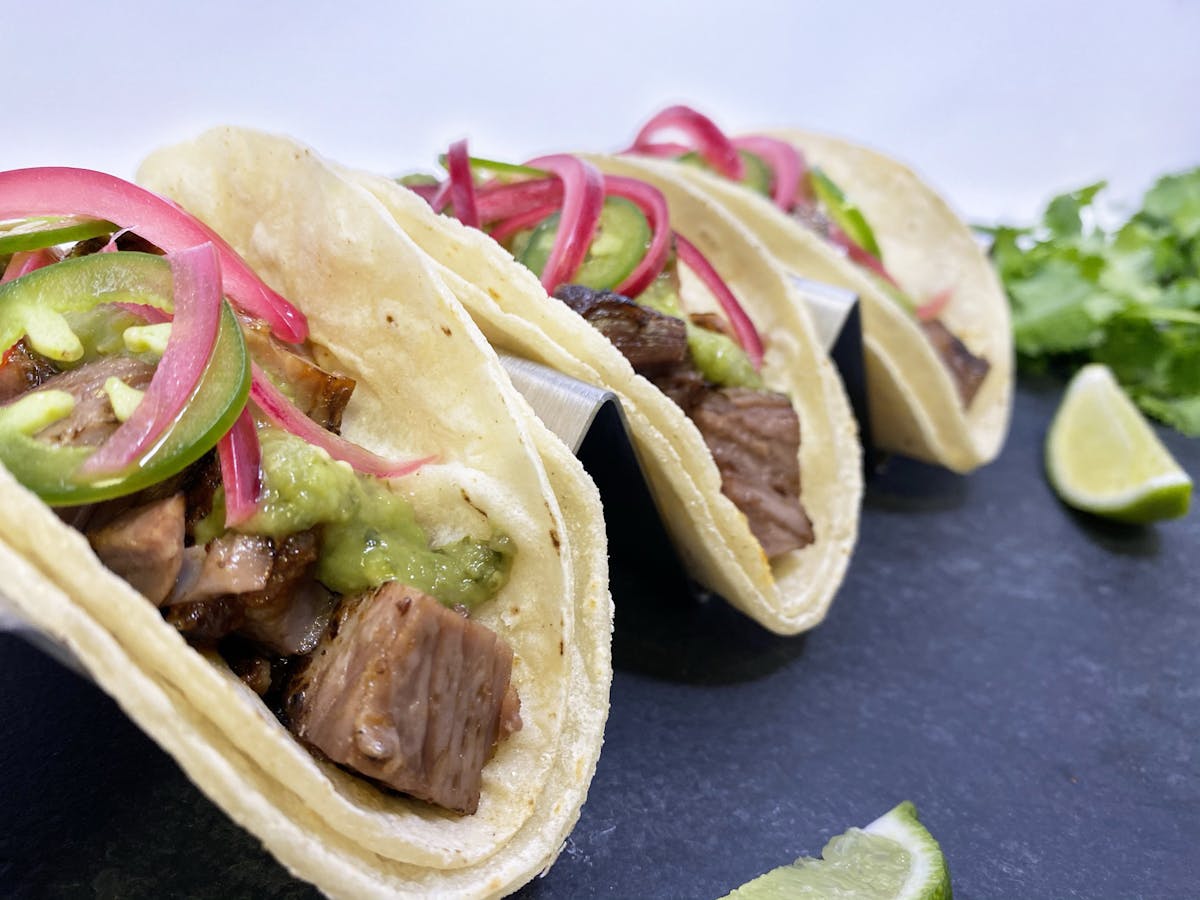 Ingredients
1 package of Grobbel's Gourmet Smokehouse Brisket Burnt Ends
Cilantro, for garnish
10 corn or flour tortillas
For the pickled onions
1 red onion, thinly sliced
½ cup apple cider vinegar
1 tablespoon sugar
1 tablespoon salt
For the salsa verde
1 pound fresh tomatillo
3 cloves garlic
½ cup diced white onion
1 jalapeno, deseeded
½ cup cilantro, leaves and stems, roughly chopped
Juice of 2 limes
1 tablespoon salt
2 tablespoons water
Directions
Make the pickled red onions
Add the sliced red onions to a mason jar or heat proof container.
Heat the vinegar, sugar, and salt in a microwave for 30 seconds or until the mixture is warm enough to dissolve the salt and sugar. Stir to dissolve.
Pour the liquid pickling mixture over the onions and let sit for at least 1 hour. These can be made ahead of time and stored in the refrigerator.
Make the salsa verde
Heat the oven broiler.
Line a sheet tray with aluminum foil. Husk the tomatillos, if necessary, and place them on the lined sheet tray.
Broil the tomatillos until they are blistered.
Place the roast tomatillo, garlic, onion, jalapeno, cilantro, lime juice, salt, and water in a blender and process until mixture is finely chopped.
Serve or store in refrigerator until ready.
Assemble
Heat the Grobbel's Gourmet Smokehouse Brisket Burnt Ends.
Heat a dry pan or griddle over medium heat. Cook the tortillas, 10-15 seconds per side.
Assemble the tacos with tortillas, burnt ends, pickled red onions, salsa verde, and additional cilantro for garnish.