Brisket Burnt Ends Eggs Benedict with North Carolina Hollandaise Sauce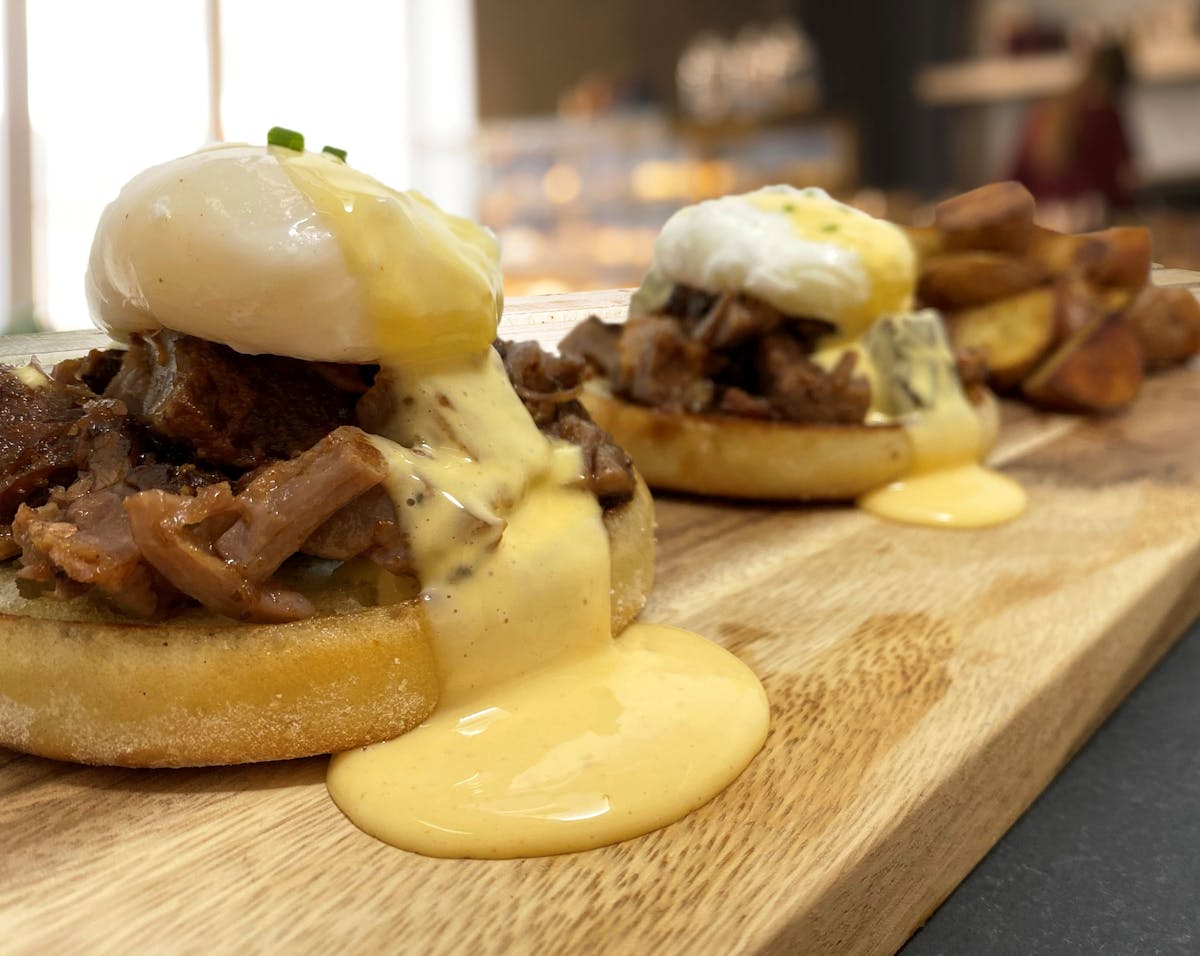 Ingredients
1 package of Grobbel's Gourmet Smokehouse Brisket Burnt Ends
4 eggs to poach
2 English muffins
½ sticks unsalted butter, cubed
2 egg yolks, separated
1 lemon, juiced
Salt and black pepper
Frank's Red Hot Sauce or your favorite hot sauce
Directions
Bring a small pot of water to a boil.
Melt the butter in the microwave in 30 second bursts until the butter is melted but not browned.
Make the hollandaise in a blender. Add the egg yolks, lemon juice, and salt to the blender. Pulse to combine the ingredients. Working quickly, and with the blender running, remove the lid insert. Slowly, pour the hot butter into the blender. Do not add to quickly! Blend until a thick sauce forms. Add salt, hot sauce, and pepper to taste. If needed, add more lemon and salt.
Next, season the boiling water with a heavy amount of salt. Crack the 4 eggs directly into the boiling water and gently stir the pot. Let the eggs set and cook until softly poached, about 90 second. Remove the poached eggs, with a slotted spoon if possible, and place onto a plate lined with paper towel.
Toast the English Muffins.
Heat the smokehouse brisket burnt ends, use the included barbeque sauce if desired.
Assemble. Place the toasted English muffins on a plate. Mount the burnt ends onto the English muffins. Top the burnt ends with a poached egg. Pour a generous amount of hollandaise over each egg. Serve.