Honey Glazed Corned Beef with Pickled Mustard Seeds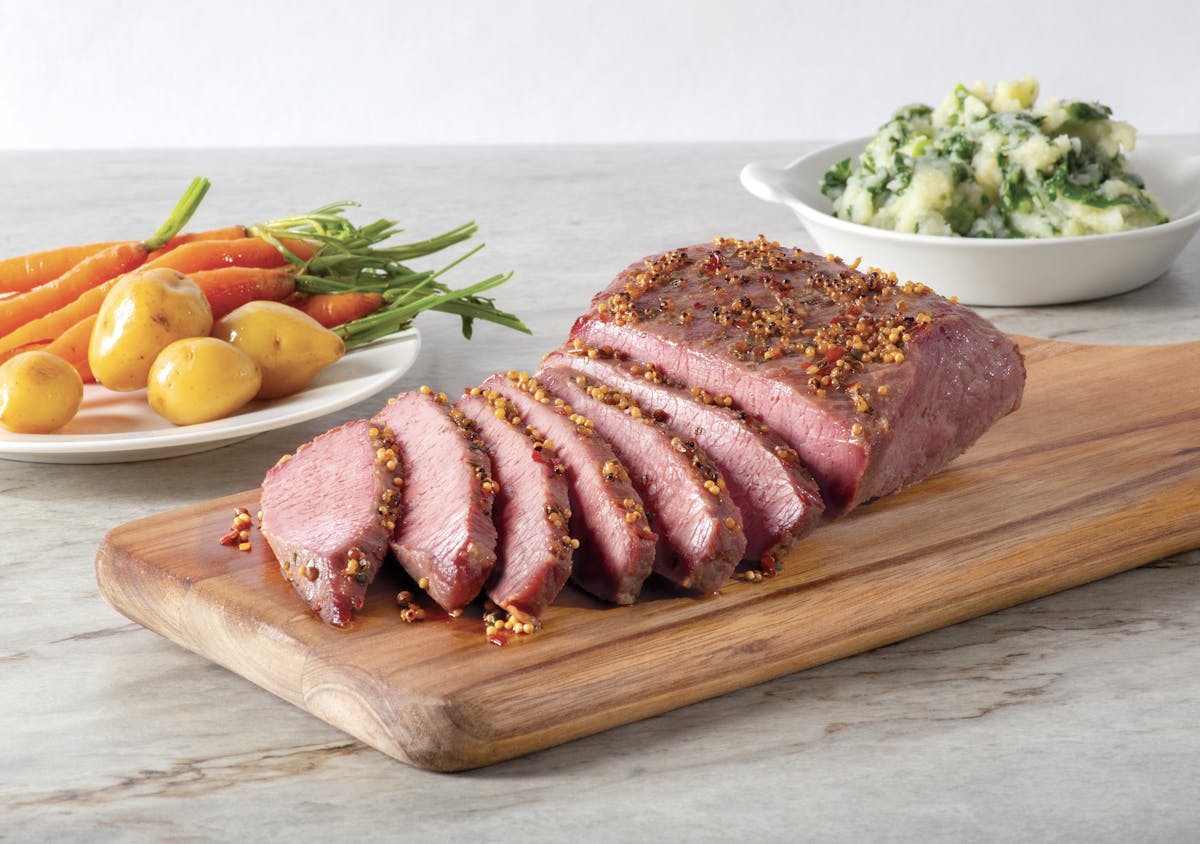 Ingredients
Grobbel's Corned Beef Flat Cut or Point Cut
Honey Glaze:
¼ cup honey
2 tablespoon water
2 tablespoon brown sugar
1 tablespoon yellow mustard
1 teaspoon Worcestershire sauce
½ teaspoon soy sauce
Pickled Mustard Seed:
¼ cup mustard seeds
¼ cup water
⅓ cup apple cider vinegar
2 tablespoon brown sugar
½ teaspoon salt
1 dried bay leaf
½ teaspoon red chili flakes
To Cook the Corned Beef
1. Remove the Corned Beef from packaging and place it fat side up in an oven proof pan. Add 1" of water and the included spices to the pan.
2. Tightly seal the pan with a lid or foil.
3. Cook in an oven at 275°F. This will take 3-4 hours total.
4. For optimal tenderness, cook to an internal temperature of 190°F-203°F.
5. Remove the corned beef from the oven and let it rest for 10 minutes.
To Prepare the Honey Glaze
1. Mix all ingredients in a bowl and whisk until combined.
To Prepare the Pickled Mustard Seed
1. Add all ingredients into a small pot and place over medium heat.
2. Bring the brine to a simmer, stirring often. Let it simmer for 25-30 minutes, until the mustard seeds are plump and about a one-third of the liquid has been absorbed.
3. Remove from heat and place the pickled mustard seeds in a storage container. Ideally, these can be made 24-hours ahead of time as the flavor will improve with age. Pickled mustard seeds can be stored in a refrigerator for up to a month.
To Assemble
1. Set your oven to "Broil."
2. Drain water from the cooking pan used to cook the corned beef.
3. Trim off surface cover fat from corned beef and place the trimmed corned beef back in the cooking pan.
4. Spoon the honey glaze over top of the corned beef. Place the coated corned beef under the broiler of your oven. Leave the corned beef under the broiler for 3-5 minutes or until the glaze has caramelized.
5. Remove the corned beef from the oven and place it on a cutting board.
6. Spoon pickled mustard seeds over top of the glaze corned beef, making sure to drain any extra brine from the mustard seeds. Use the back of the spoon to evenly spread out the mustard seeds.
7. Slice against the grain and serve!