Brisket Burnt Ends Chili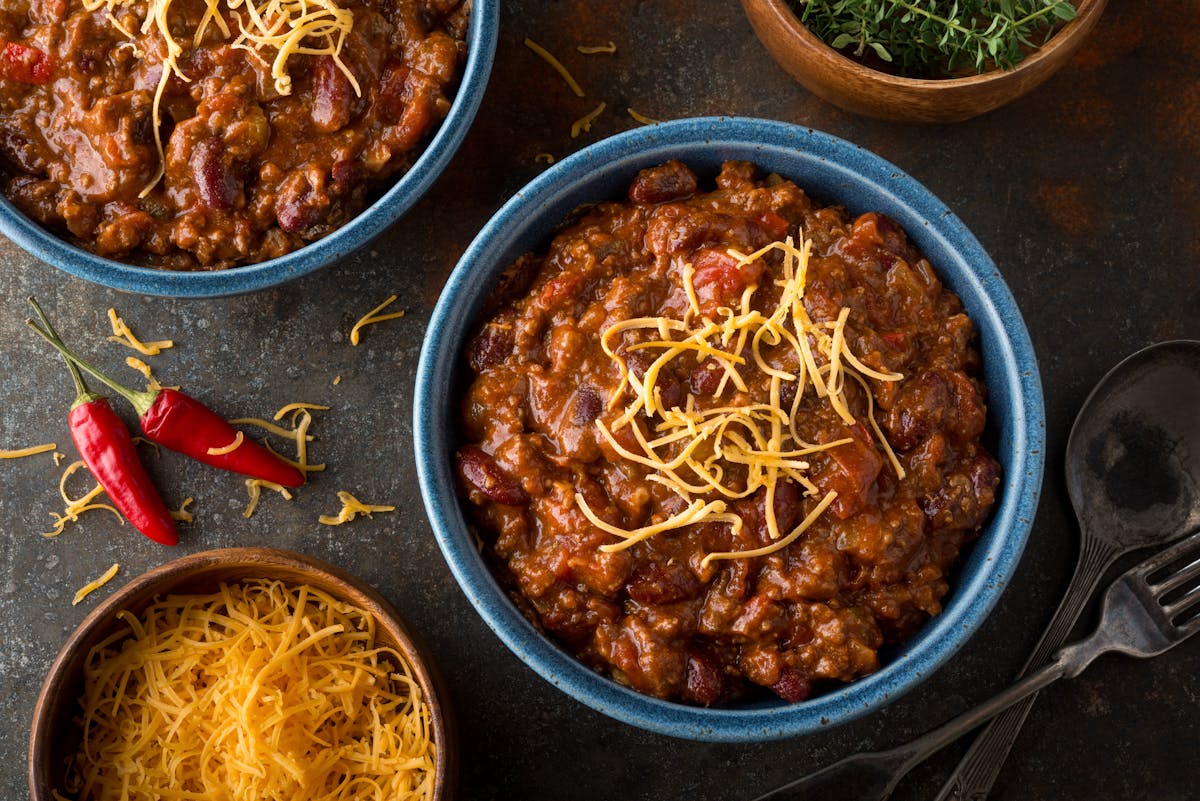 Warm up to a flavorful Chili featuring our Smokehouse Brisket Burnt Ends
Ingredients
2 lbs Grobbel's Gourmet Burnt Ends
2 dried ancho chilies, stems removed, seeded, and torn
2 dried mild chilies such as New Mexican or Guajillo chili, stems removed, seeded, and torn
1 onion, diced
3 cloves garlic, minced
1 tablespoon tomato paste
1 tablespoon ground cumin
1 tablespoon ground coriander
½ tablespoon dried oregano
1 tablespoon brown sugar
1 quart chicken or beef broth
1 bay leaf
1 lb canned red kidney beans, rinsed
1 16 oz can crushed tomatoes
1/8 cup cider vinegar
Oil or butter
Salt and black pepper
Garnish
Scallions, thinly sliced
Cheddar, Jack, or Colby cheese, shredded
Sour Cream
Directions
Heat a large, heavy-bottomed Dutch oven or stockpot over medium heat. Add the dried chilies to the pan, stirring continuously, until a roasted chili aroma develops, 2-3 minutes. Do not overheat or smoke and burn the chilis. When the chilies are aromatic, remove them from the pot and place them in a bowl. Set aside.
Add 1 tablespoon of oil or butter to the pot, followed by the onions. Cook until the onions are soft and somewhat translucent, about 5 minutes.
Add the garlic, cumin, coriander, brown sugar, and dried oregano to the cooked onions. Cook for 1-2 minutes, until the garlic and spices are aromatic, stirring constantly.
Add the tomato paste to the onion mixture. Cook for 2 minutes, stirring and scraping down the bottom.
Add the chilies to the onion mixture along with 2 cups of stock. Simmer for 10 minutes. This should reduce slightly.
Puree the mixture either with an immersion blender or by pouring it into a blender. Blend until it is a smooth paste. Return the paste to the pot over heat.
Add the Grobbel's Gourmet Burnt Ends, cider vinegar, bay leaf, remaining stock, and the can of crushed tomatoes to the paste. Stir to incorporate everything. Cook for 1 hour.
Add the beans and cook for 10 more minutes.
Season the chili with salt and pepper. Taste and adjust salt and spices as needed.
Serve immediately, or cool and refrigerate until ready to serve. Top bowls with desired garnishes.