Creamy Brussel Sprout and Corned Beef Chowder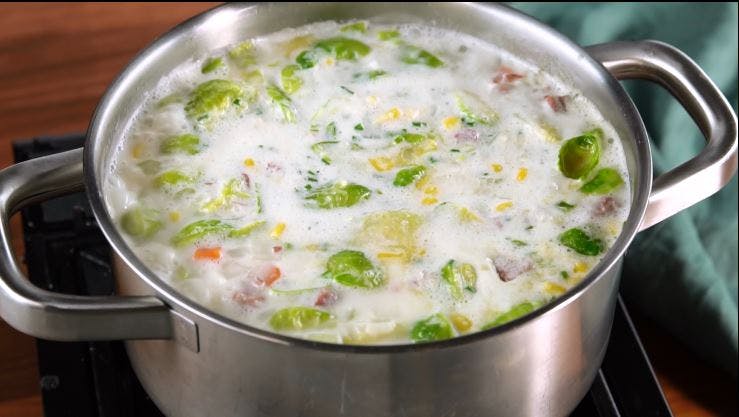 This hearty, winter-inspired chowder is pure comfort food to warm the soul on chilly days.
Prep Time 20m | Cook Time 40m | Ingredients 8 | Serves 8
Ingredients
3 tbsp butter
1 onion, diced
1 carrot, diced
1 stalk celery, diced
2 cloves garlic, minced
1/4 tsp each salt and pepper
1 lb Brussels sprouts, stems trimmed and quartered
1 tbsp finely chopped fresh thyme
4 tsp all-purpose flour
4 cups reduced sodium chicken broth
2 cups diced, cooked Grobbel's Gourmet Corned Beef, Flat Cut (leftovers are great)
2 yellow-fleshed potatoes, peeled and diced
2/3 cup 35% heavy cream
2 bay leaves
1/2 cup frozen corn kernels, thawed
2 tbsp finely chopped fresh chives
Directions
Melt butter in large saucepan over medium heat. Cook onion, carrot, celery, garlic, salt and pepper for 3 to 5 minutes or until softened. Stir in Brussels sprouts and thyme; cook for 3 to 5 minutes or until well coated and start to soften. Sprinkle with flour; cook for 2 minutes. Gradually stir in broth. Bring to a boil.
Stir in corned beef, potatoes, cream and bay leaves. Reduce heat to medium-low. Cook for 15 to 18 minutes or until potatoes are tender. Stir in corn and chives. Remove bay leaves before serving.
Tips:
Serve with saltine crackers.
While trimming the Brussels sprouts, reserve some of the outer leaves. Blanch them in boiling water for 1 minute and use as a garnish for the soup.