Waffles with Corned Beef and Dill Pickle Hollandaise Sauce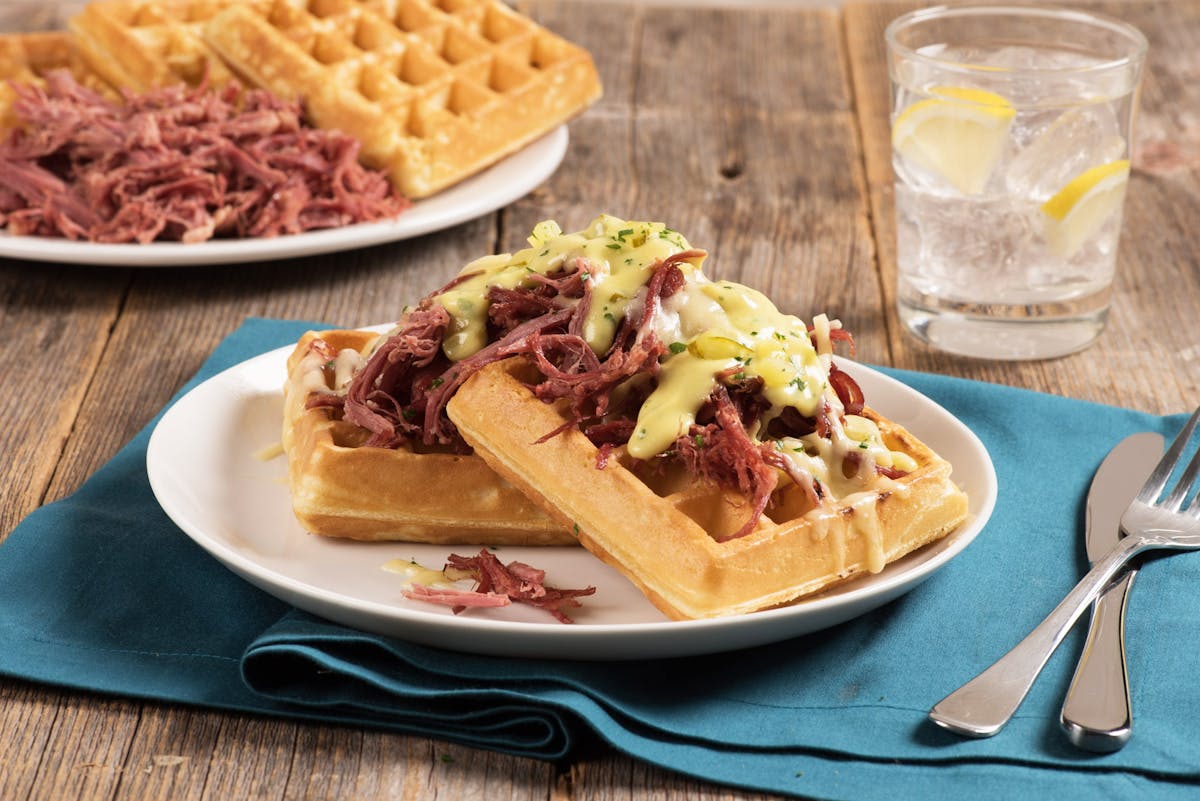 This waffle and corned beef dish makes for a cozy dinner ­– but it's so delicious that you'll serve it for weekend brunches, too.
Cook Time 10m | Ingredients 11 | Serves 6
Ingredients
1 cup (250 mL) butter
6 egg yolks
1/4 cup (60 mL) lemon juice
1 tbsp (15 mL) Dijon mustard
1/4 tsp (1 mL) salt
Pinch pepper
1/3 cup (75 mL) finely chopped dill pickles
8 frozen Belgian waffles, toasted according to package directions
3 cups (750 mL) shredded, cooked Grobbel's Gourmet Corned Beef, Flat Cut
2 cups (500 mL) shredded Gruyère cheese
2 tbsp (30 mL) chopped fresh parsley
Directions
Heat butter in small saucepan set over medium-high heat until melted and bubbling. In blender, combine egg yolks, lemon juice and mustard; purée until smooth. With motor running, pour in butter. Add salt and pepper; fold in pickles. Keep warm.
Arrange waffles on foil-lined baking sheet. Pile corned beef and Gruyère cheese on top; drizzle with sauce. Broil for 1 to 2 minutes or until golden brown and bubbly. Sprinkle parsley over top.
Tips:
• For even heartier corned beef and waffles, serve each waffle with a poached egg.
• Substitute Swiss or aged Cheddar cheese for Gruyère cheese if desired.
• Substitute regular waffles for Belgian waffles if desired.