Corned Beef Stuffed Potatoes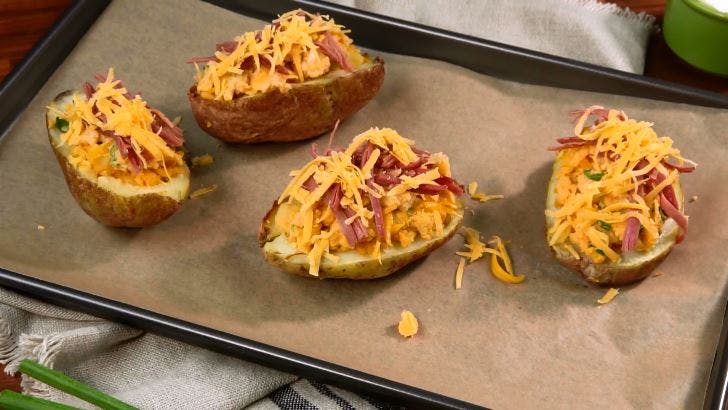 Loaded with corned beef and cheddar cheese, these tasty twice-baked potatoes are so delicious, you'll serve them all year long not just for St. Patrick's Day.
Prep Time 15m | Cook Time 90m | Ingredients 8 | Serves 8
Ingredients
4 baking potatoes
1/3 cup sour cream
2 tbsp butter, room temperature
1 tsp Worcestershire sauce
1/4 tsp each salt, pepper, garlic powder and paprika
Pinch cayenne pepper
1 ½ cups shredded Cheddar cheese, divided
4 green onions, thinly sliced, divided
2 cups shredded, cooked Grobbel's Gourmet Corned Beef, Flat Cut (leftovers are great)
Directions
Preheat oven to 425°F. Prick potatoes all over with fork. Bake on parchment paper-lined baking sheet for 45 to 60 minutes or until tender. Cool for 10 minutes.
Cut each potato in half lengthwise. Scoop flesh into a bowl, leaving thin shell and keeping skins intact. Place potato shells back on baking sheet. Add sour cream, butter, Worcestershire sauce, salt, pepper, garlic powder, paprika and cayenne to bowl; mash mixture until smooth. Stir in 1 cup cheese and half green onions.
Divide potato mixture evenly among potato shells. Top with corned beef and sprinkle with remaining cheese.
Bake for 12 to 15 minutes or until heated through and cheese melts. Sprinkle with remaining green onions.
Tips:
Substitute Swiss or Gruyère cheese for Cheddar cheese.