Corned Beef Reuben Braid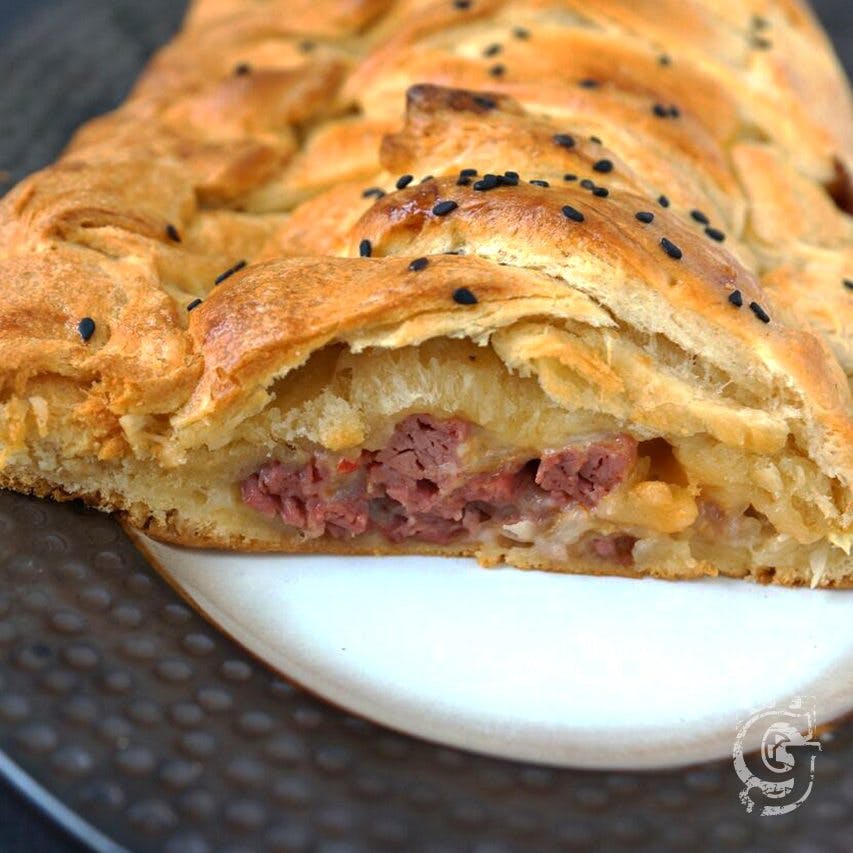 A delicious meal that's as easy as it is impressive looking. Change up the crust to add your own "twist".
Prep Time 20m | Cook Time 30m | Ingredients 8 | Serves 4
Ingredients
2 cans (8 oz each) refrigerated garlic butter crescent dinner rolls (8 rolls each)
1 cup finely chopped cooked corned beef
1 cup well-drained sauerkraut
½ cup Thousand Island or Russian dressing
1 cup shredded Swiss cheese (4 oz)
1 egg
1 tbsp water
2 tbsp pine nuts or sesame seed
Directions
1. Heat oven to 375°F. Spray large cookie sheet with cooking spray.
2. Unroll both cans of dough. Place rectangles of dough side-by-side on a cookie sheet with long sides together.
3. Press into a 15×12-inch rectangle, firmly pressing perforations and seams to seal.
4. Place corned beef evenly in 6-inch wide strip lengthwise down center of the dough.
5. Top with sauerkraut. Spoon dressing evenly over sauerkraut. Sprinkle with cheese.
6. With kitchen scissors or sharp knife, make cuts 1 1/2 inches apart on long sides of dough rectangle to within 1/2 inch of filling. Twisting each strip once, alternately cross strips overfilling.
7. Bring short ends over filling, and press to seal. In a small bowl, beat egg and water. Brush dough with egg mixture. Sprinkle top with pine nuts.
8. Bake 25 to 30 minutes or until deep golden brown.
9. Let stand 5 minutes before serving.
10. Cut into crosswise slices.