Corned Beef Irish Tacos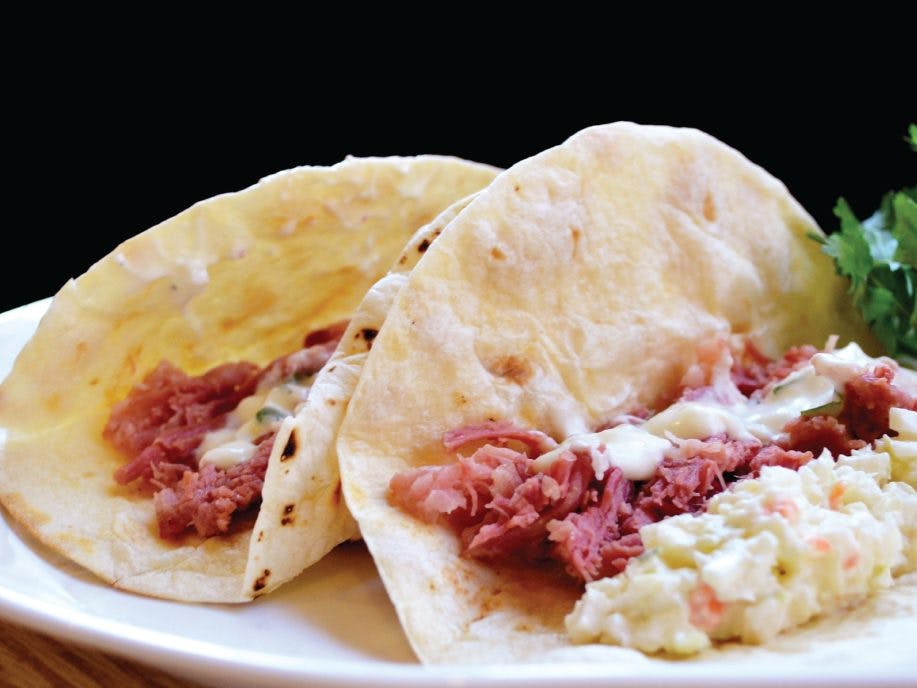 Follow these few easy steps to make your new Taco Tuesday recipe.
Prep Time 5m | Cook Time 10-15m | Ingredients 9 | Serves 8
Ingredients
2 cups plain yogurt
1/2 cup mayonnaise
1 lime, juiced
2 tablespoons chopped fresh cilantro
1 pinch cayenne pepper, or to taste
Salt to taste
1 pound prepared coleslaw
1 1/2 cups shredded, cooked Grobbel's corned beef, flat cut
8 (10 inch) flour tortillas
Directions
1. Mix together the yogurt, mayonnaise, lime juice, cilantro, cayenne pepper, and salt in a bowl until smooth.
2. Evenly distribute the shredded corned beef in a saucepan over medium-low heat just until hot.
3. While corned beef is heating, place tortillas into a heavy skillet over medium heat until hot and just beginning to show brown spots (about 30 seconds per side). Transfer to a covered plate to keep warm before assembling.
4. To assemble tacos, arrange about 2 tablespoons of coleslaw on a tortilla; follow with 3 tablespoons of corned beef. Drizzle with 2 tablespoons of the yogurt sauce; roll up to serve.