Corned Beef Hash Croquettes with Roast Garlic Aioli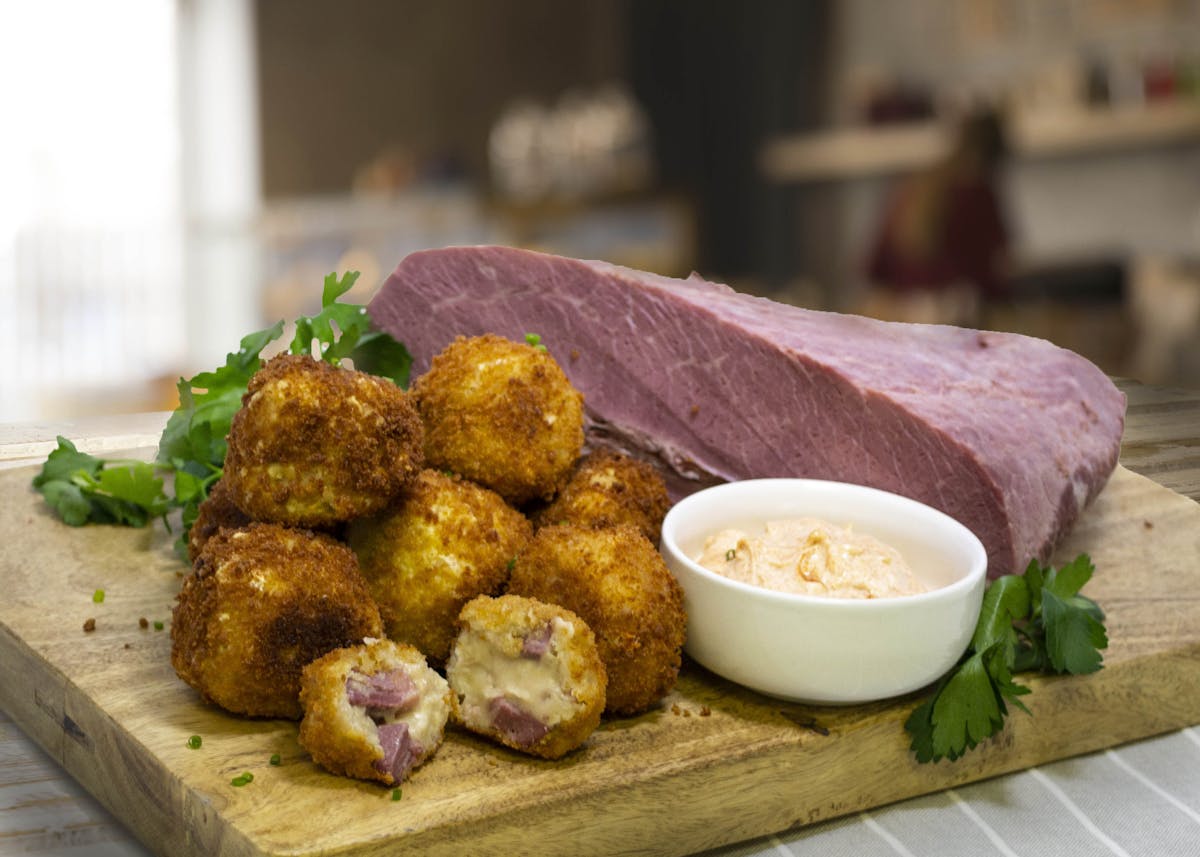 Transform corned beef hash into these crispy croquettes packed with potatoes, hash and mozzarella cheese. Complete with a garlic aioli sauce.
Cook Time 25-30m | Ingredients 13 | Serves 4
Ingredients
3 lbs russet potatoes, peeled and quartered
½ lb mozzarella cheese, shredded
1 lb corned beef hash (find our "corned beef hash" recipe here)
4 eggs
1 tablespoon onion powder
1 tablespoon garlic powder
Salt and pepper
3 cups panko bread crumbs
Aioli
2 cups mayonnaise
1 clove garlic
1 lemon, juiced
1 tablespoon smoked paprika
Salt and pepper
Directions
Boil the potatoes until fork tender, about 15-20 minutes. Drain potatoes and let them cool, about 45 minutes.
Mash the potatoes, then mix in the cheese, corned beef hash, 2 beaten eggs, onion and garlic, powder, and eggs. Season to taste.
Let the mixture cool in the refrigerator for another 30 minutes to help bind.
Use a portion scoop or your hands to form ball shaped croquettes, about ¼ cup each.
Crack the remaining eggs into a bowl and beat.
Pour the panko break crumbs into another bowl.
Dip 1 croquette into egg, letting the excess drip off, then roll in panko to coat.
Heat a deep fryer to 350 degrees. Fry croquettes in batches, turning occasionally, until golden brown and hot throughout.
Remove the croquettes from the fryer, season with salt and pepper, and serve immediately.
Aioli
Heat your over to 350 degrees.
Cut the top off a whole head of garlic. Pour olive oil over the top and wrap the head of garlic in aluminum foil. Bake until golden brown then let cool.
Squeeze the roast garlic cloves out into a bowl. Add all remaining ingredients and whisk until full incorporated.
Serve or keep in refrigerator until ready to use.