Corned Beef Hash and Guinness Meat Pie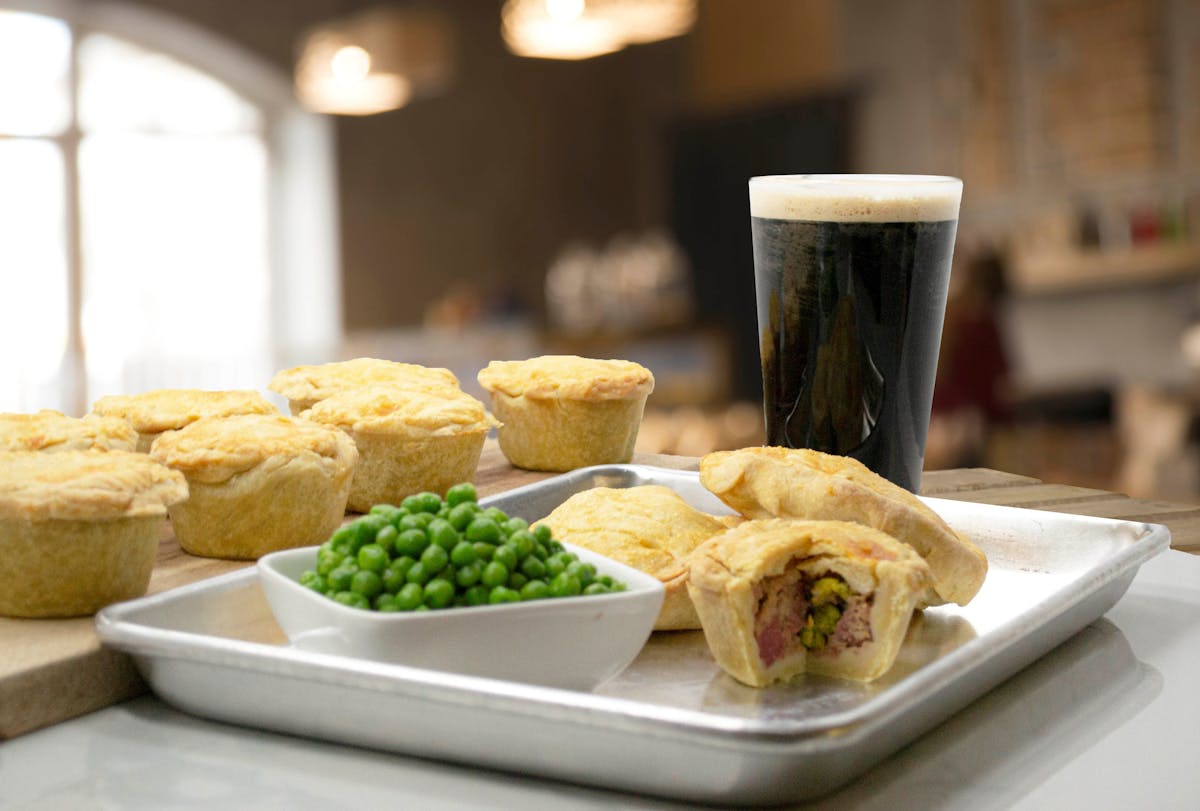 Yields 8 Pies
Ingredients
Hot Water Pastry Dough
200 grams water
75 grams butter
75 grams lard
450 grams AP Flour
Pinch salt
1 egg, beaten
1 teaspoon vegetable oil
1 Muffin tin pan or other concave molds
6 & 4 inch ring cutters
Pie Filling
1 lb corned beef hash
½ onion, diced
½ cup green peas
½ teaspoon nutmeg
½ teaspoon black pepper
Guinness Jelly
1 tablespoon (1 .25 oz envelope) powdered gelatin
2 cups chicken stock
1 cup Guinness
Salt and pepper, pinch
Directions
Make the Hot Water Pastry Dough
Place the water, butter, and lard in a saucepan and heat to melt the butter and lard. Once melted, bring to a simmer.
Pour the flour into a large heatproof bowl. Add the salt and the egg. Mix together with a pastry cutter or knife.
Add the hot liquid mixture and kneed thoroughly. The dough should be wet and sticky.
Place the dough on a lightly floured countertop or work surface and form into a ball.
Cover with plastic wrap or a moist towel and let rest for 20 minutes.
Portion 2/3rds of the dough and reserve the remaining 1/3rd. Roll the pastry out to ¼ inch thick.
Use a 6 inch ring cutter, cut our circles from the dough. This should yield 8. If the pastry tears, it can be reworked. Scraps can also be rolled back out and cut.
Grease the muffin tin with oil, butter, or non-stick spray.
Press the dough circles into the tins, pressing into the corners. When all the dough circles are used, place the tin in the fridge and let the dough harden, about 20 minutes.
Assemble
Pre-heat oven to 350 degrees.
To make the Guinness Jelly, heat the chicken stock and Guinness in a small pot. Once the liquid is simmering, add the gelatin, salt, and pepper. Stir in with a whisk until the gelatin is dissolved.
Add all the pie filling ingredients in a bowl and mix by hand until fully combined.
Remove the tin from the fridge. Fill each mold with filling almost to the top.
Pour the Guinness Jelly liquid over the filling, just enough to cover the filling.
For the pastry tops, roll out the remaining dough to ¼ inch thick. Use a 4 inch ring cutter to cut lids out of the dough.
Put the lids on top of each pie and crimp to close.
Using a skewer or chopstick, puncture a hole in each lid to allow steam to escape.
Make and egg wash by beating 1 egg and adding a pinch of salt. Brush the egg wash on top of each pie.
Bake for 1 hour until the tops are deep, golden brown.
Let the pies cool and serve!