Corned Beef and Eggs Benedict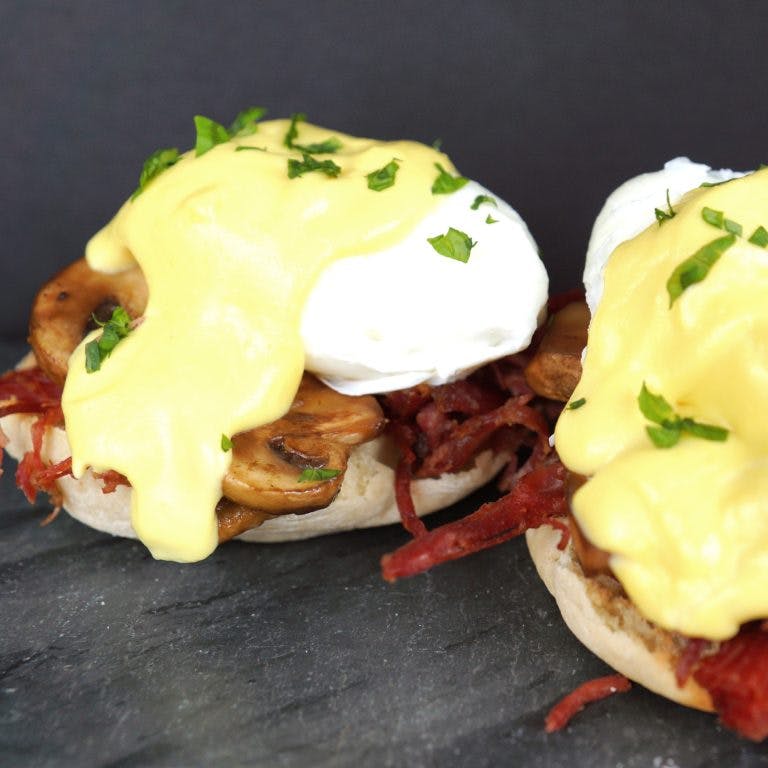 Sunday Brunch will never be the same with this update to an old classic.
Prep Time 10m | Cook Time 20m | Ingredients 6 | Serves 1
Ingredients
1 English Muffin – toasted and buttered
1/2 cup mushrooms
1/2 cup shredded, cooked Grobbel's corned beef
1 egg, poached (see instructions below)
1/4 cup Hollandaise
1 tsp vinegar
Directions
1. Heat oil on medium-high in a skillet and add mushrooms until softened, then set aside.
2. In the same skillet on medium-high heat, add shredded corned beef and heat until lightly browned.
3. Layer corned beef, mushrooms and poached egg on the biscuit.
4. Top with warmed hollandaise and enjoy!
Poached egg instructions
1. Bring a saucepan with 3 inches of water to a simmer and add vinegar.
2. Carefully break the egg into the water, let cook for 3 minutes.
3. Remove with a slotted spoon.